COMMERCIAL MASONRY FIXES FOR NASSAU, SUFFOLK & QUEENS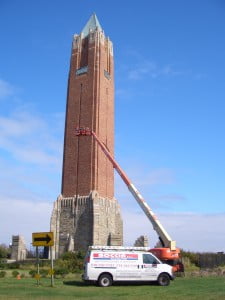 Many buildings today are constructed with and surrounded by cementitious materials such as brick, block, stone, concrete and stucco. Since these commercial masonry materials are regularly exposed to the elements, they are subject to deterioration. As it occurs, the building envelope can become vulnerable to weather intrusion, which may result in the presence of mold and other hazards.
These conditions are extremely important to building managers, facility managers and owners who want their properties to remain safe and secure. Boccia Inc. has become their most valuable vendor due to their superior qualifications in handling these kinds of issues. We have certified commercial masonry special inspectors on staff, possess a New York City riggers license and are Local Law 11 experts. Most importantly, the personnel at Boccia Inc. can diagnose defects and specify solutions as a design build contractor, eliminating the need to retain an architect or engineer in most cases.
Commercial Masonry Problems Fixed
Our commercial masonry services include:
Building façade and bulkhead restoration and waterproofing
Lintel and parapet replacement and waterproofing
Pointing, caulking and coating water repellents
Acrylic and cement stucco restoration
Balcony, parking lot and plaza deck restoration and waterproofing
Site drainage and drywells
Basement waterproofing
Concrete and masonry flat work and wall repairs/replacement
Boccia Inc. services buildings throughout Nassau, Suffolk and Queens:
Apartments
Condominiums
Cooperatives
Offices
Hospitals
Schools
Universities
Churches
Cathedrals
Synagogues
Temples
Contact Boccia Inc. today to learn how we can meet and exceed your commercial masonry needs.