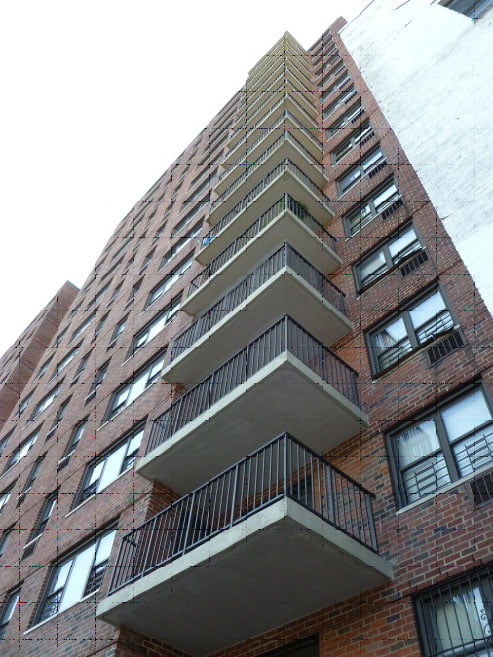 Frank Boccia has garnered years of experience restoring cast-in-place concrete balcony structures.  The main components requiring repair and restoration are as follows:
Concrete
Reinforcing steel embedded in concrete
Structural supports such as steel beams and connections
Metal deck
Railings
Protective coatings
Physical degradation of concrete balconies is usually a result of moisture penetrating the balcony system causing spalling due to freeze-thaw cycles and metal corrosion.   Often the original placement of the embedded steel reinforcement is too close to the exterior surface which will exacerbate these conditions.
Common restoration procedures of concrete balconies includes:
The removal of loose and deteriorated concrete to a sound substrate
Exposing and cleaning embedded steel reinforcement
Priming
Pinning
New modified concrete repair mortar
Protective coatings
Protective coatings will beautify as well as preserve deck repairs for many years. A variety of color choices are available to accent and enhance the building aesthetic. Aggregate mixed into the coatings will provide slip resistant surfaces.  Coatings also help maintain a water tight seal at railing posts. These coating systems are primarily urethane systems that are liquid applied. Substrate preparation is critical for a lasting system.
Frank Boccia is a certified Reinforced Concrete Special Inspector by the International Code Council.  Frank emphasizes that these structural concrete repairs must be executed with proper supervision.