AUTOMATIC SUMP PUMPS AND BATTERY-POWERED BACKUP SUMP PUMP INSTALLATIONS IN NASSAU, SUFFOLK AND QUEENS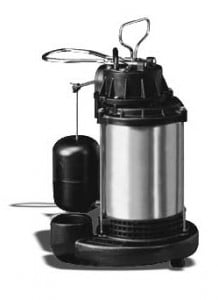 A typical basement is installed in the ground. Unfortunately, in most of Nassau, Suffolk and Queens, water can also be found in the ground. Since basements aren't intended, designed or built to be boats, the water in the ground goes into the basement. To resolve this problem, we install sub-floor drainage systems under the floor to remove the water before it enters the basement. An integral component of a sub-floor drainage system is an automatic, submersible sump pump.
Sump Pump System Installations
In a sump pump system, water seeps into the perforations of the sub-floor pipe from the ground underneath the basement. Then, it flows to a sump pump tank, which is a prefabricated cylinder below the floor. In this sump tank, our team installs a professional grade, heavy-duty, high-efficiency pump to remove the water automatically.
Like the human body, the pump is the heart of the drainage system. Therefore, Boccia Inc. tests all of the leading brands to determine which ones pass their rigorous standards. That's because we only use the best materials on the market. We know that, after installing thousands of drainage systems throughout Nassau, Suffolk and Queens, the highest-quality automatic submersible sump pump is the key to success. That is why all of our pumps include these primary features:
Fully automatic operation
Cast iron construction
Energy efficient motors
Thermal protection
Stainless steel shaft and fasteners
Sealed ball bearings
Smart pump controllers
Battery Backup Sump Pump
Unfortunately, electricity powers an automatic submersible sump pump. Therefore, on the rare occasion of disrupted power, automatic battery-operated backup pumps operate the subfloor drainage system until electricity restoration. We install a secondary pump that operates from a direct current in the sump tank with the primary pump. Our team also attaches a deep cycle battery to the secondary pump. It is similar in size to the ones in an automobile, as well as a device that operates and monitors the system while recharging the battery.
New York storms can bring heavy winds and lightning that knock out power. When additional assurance is desired for protection during power outages, heavy-duty, battery-powered backup pump systems are available in a single battery configuration or double battery high amperage recharge system for extended operation. Their features include:
Fully automatic operation
Alarm system to alert you of main pump failure or power failure
Multi-staged battery charging system
Sealed maintenance-free deep cycle batteries
Protect yourself from needless flooding in the event of power failure or main pump malfunction. The best drainage systems starts with the best sump pumps.
Call or email us before the next storm to have our expert pump technicians service or replace your sump pump.