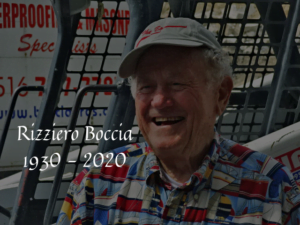 Rizziero Boccia immigrated from Italy in 1947 with only the shoes on his feet and a second- grade education. For many this would be considered a setback, but for Rizziero his young life experience served as the baseline to build something great and eventually achieve the "American Dream."   In 1955, Rizziero began his career waterproofing the many wet basements that existed on Long Island including installing French Drains.  At the time, French drains were not a known commodity and he had to convey to customers the science behind the drains in broken English.  But through his tireless work ethic he grew his business and earned an exceptional reputation of doing the job right.
During these years, Rizziero had his young family working beside him and taught them the waterproofing trade.
Rizziero built an incredible reputation on Long Island's gold coast which was plagued by water problems. He worked for many businesses, hospitals, temples, churches and residences. Rizziero was particularly proud to work for the United States Kings Point Merchant Marine Academy where the engineers loved him and his ability to solve the water problems that existed at many of the buildings on their campus.
Rizziero had the mind of an engineer which extended to two of his sons, both of which went on to become NYS licensed Professional Engineers and run the business with their brother to this very day.  Today, the business that Rizziero started in 1955 has grown to be the regions #1 waterproofing company, respected by their peers, engineers, and architects.  Rizziero Boccia waterproofed homes and buildings in almost every town on Long Island and the 5 boroughs of Manhattan.  
Rizziero had a true love for his business and those who worked with him which he considered family. Rizziero's work ethic and love of those he came into contact with during his life – will be carried on through the continued success of Boccia Inc. – Waterproofing and Masonry Specialists.  At this time of his passing, we take a moment of pause in his honor.