OUR STORY
Boccia Inc. – Our Story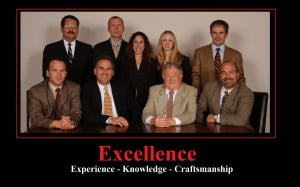 In 1955, Ike was in the White House, the Brooklyn Dodgers played the New York Yankees in the World Series and Marlon Brando's "On The Water Front" swept the Academy Awards. It was around that time when a seasoned union bricklayer named Rizziero Boccia went out on his own from the trunk of his Dodge. Within a short number of years he made a name for himself in the industry through hard work and a dedication for building things "the right way."
Rizziero passed these construction traits to his eldest sons Frank and Joe who went on to carry the baton of the Boccia name. In the 1980's, key personnel joined the family business that still remain valuable team members to this day. Project Manager Mauricio Duraes and Office Manager Stacy Moskowitz have now been with the company close to 30 years.
Rizziero's youngest son Vincent joined the family business in 1998 after becoming a licensed Professional Engineer. The company's foundation was set and they went on to complete thousands of projects garnering a unique combination of experience and knowledge that is unparalleled in the industry.
The Boccia's have worked across Long Island and the 5 boroughs of New York City – waterproofing structures from basements, to balconies, to parking garage and plaza decks, to parapets and roofs. In 1984 they received a patent which is used across the country for basement waterproofing. Their expertise in brick restoration and waterproofing was called upon in the recent restoration of the landmark Jones Beach Tower. This expertise was then relied upon again and again as they helped rebuild many homes and buildings damaged by Hurricane Sandy.
The attributes of experience, knowledge, and expert craftsmanship are the cornerstones of a family business that has lasted the test of time.