When it comes to protecting your home, you take all the proper precautions. You protect against rodents, make sure the exterior façade is tight and that the wiring is sound. After all, you don't want anything to stand in the way of you fully enjoying one of the biggest purchases of your life. And you definitely don't want the possessions you have inside to be damaged. But if you are one of the many homeowners who have failed to properly waterproof their basement then you may be putting your house at risk for water leaks and floods in the future which could severely damage finishings and possessions and lead to hazardous mold.
Joseph Boccia of Boccia Inc., a waterproofing company in Long Island, New York, has devoted his 40 year career to keeping homes and buildings dry. To ensure that his work will provide lasting results and protection for every client whose home he and his team visit, his company has patented a waterproofing system that his company utilizes and is distributed across the country.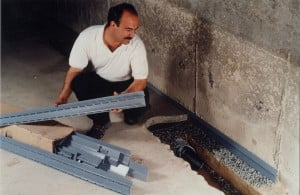 The patented Hollow Kick Molding Drainage System is designed to drain the water from the sub soils below the basement floor slab eliminating the potential of flooding. It consists of a proprietary cove molding which drains water into sub floor filtered perforated pipes.
The Hollow Kick Molding is the only product specifically designed to protect and conceal the floating slab detail to accommodate even the worst flow rates. Most importantly it is guaranteed to last the life of the structure.
Joseph wonders why someone would take a chance and leave their vulnerable basement to become a breeding ground for mold which has been linked with multiple negative health effects. He recommends protecting it now before the damage is done. And for those planning to build a new home, he definitely recommends installing this waterproofing system during the initial construction process which will save thousands of dollars down the road. It would guarantee that your basement will never flood in the future.