Basement Systems – Common Problems Experienced with French Drains Garden City, NY
Do you have a French drain? This is an important part of many basement systems. It is designed to provide excess water in the soil around the foundation with an easy path to flow along. French drains guide water away from the foundation, preventing seepage and buildup of hydrostatic pressure against the foundation walls. French drains, therefore, help to prevent bowing, cracks, flooding, and other common foundation issues.
Like all other basement systems, French drains require maintenance. Regular inspection and maintenance will ensure that the drain tile works efficiently. The following are some problems that you should be on the lookout for. 
   1. Clogging 
French drains can become clogged by debris or silt that sips into the drain. This occurs slowly over time as water moves into the drain and carries fine soil particles along with it. French drains can also experience clogging when mud forms on the drain holes and interferes with the water draining into the French drain. Clogging will result in water accumulating in the soil. This will cause foundation seepage problems. It can also result in bowing of the basement walls. 
   2. Change in the drain's slope 
French drains are designed with a slope that allows water to flow by gravity towards the discharge point. This slope may shift in time with soil movements. In newer homes, it is common to see changes in drain's slop as a result of the foundation settling over time. The drain shows changes in slope which interfere with the flow of water, making the drain less efficient or causing water to pool within the drain. This can result in basement wall cracks, flooding of the basement, or bowed basement walls.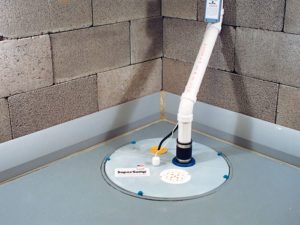 3. Failure of the sump pump 
Sump pumps are an important part of foundation drainage systems. These pumps ensure excess water is removed from the well. They help to prevent flooding. If your sump pump stops working, your basement could flood. Sump pump failure can occur for a number of reasons, including poor maintenance, improper installation, fault with the pump's float switch, and power outages. 
How to fix your French drain
If you've noticed problems with your French Drain, you should get in touch with a basement waterproofing contractor. They will inspect the drain to determine the problem. They will provide you with recommendations for repair based on your needs. Be sure to talk to different contractors to compare solutions and their charges. 
Contact the Professionals at BOCCIA Inc. Waterproofing Specialists Today! (516) 747-7727